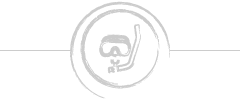 Snorkelling at Cala Ginepro
Snorkelling in Sardinia: immersed in delightful Cala Ginepro!
Snorkelling at Cala Ginepro is a unique experience in Sardinia! The seabed across from the campsite is awash with eye-popping marvels…just waiting to be discovered once you've donned your snorkelling gear! Snorkelling is a simple way to observe marine life – there are so many creatures that cannot be seen from terra firma, and their colours are sure to amaze you. A mask, a pair of flippers and a mouthpiece will allow you to dive under water in a hassle-free way.
To go snorkelling at Cala Ginepro, in the crystal-clear sea towards which our campsite faces, you can hire all the necessary equipment on the main beach, including mask, mouthpiece, flippers and wetsuit. The equipment undergoes careful disinfection after each use, so you can be sure it is clean and safe.
Thanks to the undersea world here, and particularly to the seabed off our coast, snorkelling in Cala Ginepro is one of Sardinia's unforgettable experiences: with the perfect illumination from the sun, the incredible transparency of the water makes it possible to see dozens of metres down from the surface. Near the reef between the campsite's two beaches, you will see certain fish that prefer sandy environments and those that prefer to swim around rocks, all doing their best to camouflage themselves. You can also catch glimpses of octopuses, which build their dens stone after little stone, before heading out in search of food. While you're snorkelling at Cala Ginepro, you are sure to see the underwater "meadows" of the seagrass called Posidonia Oceanica – you will be stunned by the way the green leaves are swayed by the water, in much the same way as the breeze ruffles the leaves of trees on land.
Staring at the sea off Cala Ginepro in all of its richness is an unrivalled experience. What are you waiting for? Ask our bathing assistants for the complete snorkelling kit so that you can start exploring the undersea world here!