Sa Curcurica Cooperative: values, vision and mission
Our values
Here at the "Sa Curcurica" Cooperative, there is one value that for us is a sine qua non: mutual respect – respect for people, for the land, the sea and the natural world as a whole.
With a view to working efficiently and fulfilling our guests' requirements, for us it is fundamentally important to function as a bona fide team. Our relationships, based on trust and loyalty, are geared not only towards the here and now, but also towards actions that are beneficial for people; actions that increase the dignity of work and that serve as a driver for local development.
We aim to be a reliable bunch, and to be ready, willing and able to help all of our customers. We want to engage with you in transparent partnerships, learning all about your desires and expectations, in order to guarantee that you have an enjoyable stay that you will cherish for years to come. Equally, it is essential that we all behave responsibly.
It is crucial to safeguard the environment, and to make conscious use of the natural surroundings in which Camping Cala Ginepro is immersed – even when you're on holiday. It is the little acts of each individual that make a great difference, both day-to-day and over the long term.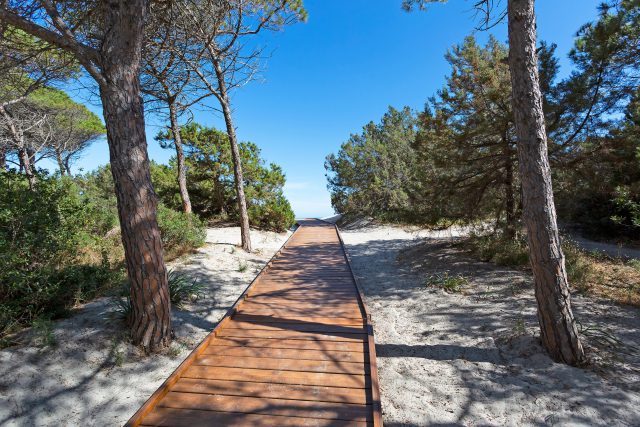 Our vision
The vision that has always supported the Sa Curcurica Cooperative, and which has always kept all of us going, can be summed up as follows: "Allowing you, wherever you come from, to enjoy a special and unforgettable holiday at Camping Cala Ginepro, one rich in experiences and emotions, so that you can take home with you a treasure trove of heartfelt memories of this natural Sardinian paradise."
Our mission
The mission of the Sa Curcurica Cooperative and Camping Cala Ginepro can be encapsulated by the desire to "Welcome all of our guests to a campsite that can compete with the very best on the island and further afield, through the protection of nature and the creation of comfortable holidays that afford myriad opportunities for entertainment, relaxation and sport in the open air. This combination of qualities is embodied by our dedication to our guests' needs, our safeguarding of the delicate environmental equilibrium of Cala Ginepro, our provision of a wide array of services and facilities as part of a diversified offering, and last but not least, by our commitment to the constant enhancement of the running of the campsite and to tireless innovation".