Holidays in Sardegna in a Camper Van
All the freedom of your camper van, on a safe and sound vacation
Spending your camper van holidays in Sardinia is a unique experience, as you get up-close and personal with the breathtaking panoramas that our island has to offer.
In spring and autumn, there is a greater choice of pitches available for large camper vans. Pitches for campers include access to a nearby power supply - subject to a fee - that is compliant with CEE regulations (max 5 A / 16 A subject to availability), alongside all of the facilities that are available free of charge for guests, including hot showers, potable water and Wi-Fi in the bar area. On the campsite, you can savour the local delights from land and sea in the Ristorante Pizzeria. You can also do some grocery shopping at the Market, which is well-stocked with authentic Sardinian products, as well as gas cylinders. You can also hire kayaks, and mountain bikes, for unforgettable excursions through the stunning surroundings.
On your camper van holidays in Sardinia, the cost of the stay includes the camper van service, provided in the dedicated areas, the location of which can be seen on the Camping Cala Ginepro map.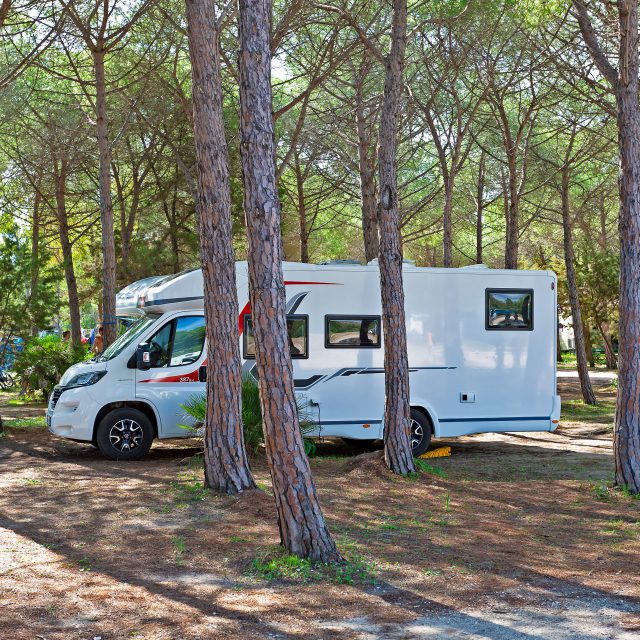 Features
pitch
camper van max. 8 m
Facilities in the communal areas
hot showers
entertainment1
barbecues
camper service
in-house card
playpark
water dispensing points
sanitary blocks
Wi-Fi area
Chargeable services
power supply2
bar
football field
mini market
Mountain Bike
parking3
pedalo
restaurant
The entertainment service is offered from 15 June to 31 August.
Max. 5 A (16 A subject to availability).
Admission and parking for one motorbike included in the price.
Price from
€ 12,50 / day
excluding people